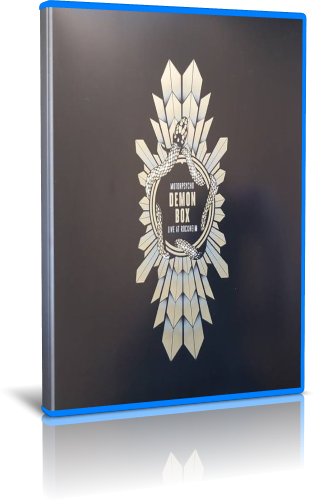 Title:
Motorpsycho - Demon Box Live at Rockheim
Year of release:
2018
Genre:
Rock, Hard Rock, Experimental
Released:
C+C Records
Cast:
Motorpsycho
Tracklist
:
25 years ago, Motorpsycho released his album Demon Box. The album is one of the cornerstones of Motorpsycho's catalog. In October 2015, they played the entire album three days in a row during the Motorpsycho exhibition Supersonic Scientists at Rockheim. These three days were filmed and recorded, and lay in the vault for a year before deciding to give it out. It has become a triple LP / double CD, as well as a Blu-Ray with the entire concert.
Live at Rockheim
Prelude
Waiting For The One (Saether)
Nothing To Say (Saether)
Feedtime (Saether, Ryan, Gebhardt)
Gutwrench (Saether, Ryan, Gebhardt)
Sunchild (Saether)
Mountain (Saether, Ryan, Gebhardt, Lien)
Tuesday Morning (Saether, Ryan)
All Is Loneliness (Moondog)
Junior (Saether)
Babylon (Saether, Ryan, Gebhardt)
Mr Who (Saether, Ryan, Gebhardt)
Plan #1 (Saether, Ryan, Bur)t
Sheer Profundity (S?ther, Ryan, Gebhardt)
The One Who Went Away (S?ther)
Come On In (Saether)
Demon Box (Saether, Ryan, Sten, Gebhardt)
Flesh Harrower (Saether, Ryan, Sten, Gebhardt)
Home Of The Brave (Saether)
Credits
Documentary
Hakon Gebhardt: trommer, akustisk gitar, sang, synthesizer
Kenneth Kapstad: trommer, mindre trommer, nokkelharpe
Hans Magnus "Snah" Ryan: gitar, sang, fiolin
Helge "Deathprod" Sten: audio virus, synthesizer, sang
Bent Saether: bassgitar, sang, akustisk gitar
Quality:
Blu-ray 1080i
Video:
MPEG-4 AVC Video / 18997 kbps / 1080i / 25 fps / 16:9
Audio:
English DTS-HD MA 2.0 / 48 kHz / 2317 kbps / 24-bit
Total Size:
23.45 GB
Total Time:
02:23:07
Download Hoster: uptobox.com, share-online.biz, hitfile.net, turbobit.net
Download via share-online.biz
Download via turbobit.net
Download via uptobox.com
Download via hitfile.net
Pass: 689