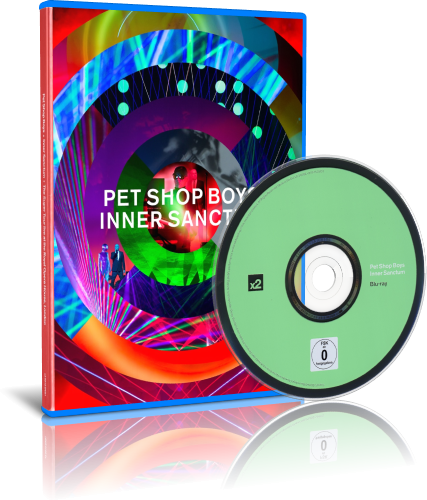 Title:
Pet Shop Boys - Inner Sanctum: The Super Tour Live At The Royal Opera House
Year of release:
2019
Genre:
Synthpop, Pop, Electro
Released:
x2 Recordings Ltd.
Cast:
Pet Shop Boys
Tracklist
:
The iconic duo's acclaimed production, first presented at the Royal Opera House in 2016 over four sold-out shows, was reprised at the venue for a further four nights in July 2018 as part of their 'Super' tour. Staged by long-term PSB designer Es Devlin and choreographer/director Lynne Page, the show was filmed by director David Barnard. Filmed on 27 and 28 July 2018, the full-length film on DVD and Blu-ray is accompanied by two CDs of the complete audio of the live show plus a bonus feature of PSB live at Rock in Rio, which was recorded on 17 September 2017 at the Brazilian festival. The 'Inner Sanctum' production won rave reviews for a musical and visual extravaganza which brought lasers, dazzling choreography and immersive visuals and stage design to the ornate surroundings of the Royal Opera House for an electrifying show. The set-list featured contemporary PSB material from their last two albums 'Super' and 'Electric' mixed with many PSB's classic hits from their peerless back catalogue including 'Love comes quickly', 'West End Girls', 'It's A Sin', 'Go West' and 'Always On My Mind'.
Inner Sanctum: The Super Tour Live At The Royal Opera House, London
1. Inner sanctum
2. Opportunities (let's make lots of money)
3. The Pop Kids/In the night/Burn
4. Love is a bourgeois construct
5. New York City boy
6. Se a vida é (That's the way life is)
7. Love comes quickly
8. Love etc.
9. The dictator decides/Inside a dream
10. West End girls
11. Home and dry/The Enigma
12. Vocal/The Sodom and Gomorrah Show
13. It's a sin
14. Left to my own devices
15. Heart/Go West
16. Domino dancing
17. Always on my mind
18. The pop kids (reprise)
Bonus Feature: Pet Shop Boys Live At Rock In Rio, September 17, 2017
1. Inner sanctum
2. Opportunities (let's make lots of money)
3. Burn
4. Se a vida é (That's the way life is)
5. West End girls
6. Home and dry/The Enigma
7. Vocal/The Sodom and Gomorrah Show
8. It's a sin
9. Left to my own devices
10. Heart/Go West
11. Domino dancing
12. Always on my mind
Quality:
Blu-ray
Video:
MPEG-4 AVC / 28285 kbps / 1080p / 23,976 fps / 16:9 / High Profile 4.1
Audio:
English LPCM Audio / 2.0 / 48 kHz / 2304 kbps / 24-bit
Audio:
English DTS-HD Master Audio / 5.1 / 48 kHz / 5260 kbps / 24-bit
Total Size:
44.85 GB
Total Time:
01:45:15, 01:00:39
Download Hoster: uptobox.com, share-online.biz, hitfile.net, turbobit.net
Download via share-online.biz
Download via turbobit.net
Download via uptobox.com
Download via hitfile.net
Pass: 689