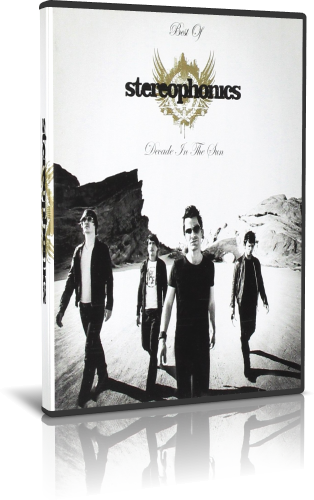 Title:
Stereophonics - Decade In The Sun
Year of release:
2008
Genre:
Rock
Released:
Island Def Jam Music Group
Cast:
Stereophonics
Tracklist
:
THE INTROS
Unique introductions and anecdotes compiled from exclusive interviews, behind-the-scenes footage, and making of documentaries. Watch just the videos in chronological order, top 10, top 20, or with intros.
THE EXTRA BITS (Live Chops and Rare Bits):
I Wouldn't Believe Your Radio
Mama Told Me Not To Come
Substitute
Bank Holiday Monday
Forgetting T-Shirt Suntan?
Don't Let Me Down
A Thousand Trees
My Friends (Promo and Live TV Version)
Yellow Pages
Summer
Just Looking
Look Like Chaplin
Not Up To You
THE VIDEOS:
More Life In A Tramps Vest
A Thousand Trees
Traffic
Local Boy In The Photograph
The Bartender And The Thief
Just Looking
Pick A Part That's New
I Wouldn't Believe Your Radio
Hurry Up And Wait
Mama Told Me Not To Come
Mr Writer
Have A Nice Day
Step On My Old Size Nines
Handbags And Gladrags
Vegas Two Times
Madame Helga
Maybe Tomorrow
Since I Told You It's Over
Moviestar
Dakota
Superman
Devil
Rewind
It Means Nothing
You're My Star
Quality:
DVD9
Video:
MPEG-2 Video 720x480 (4:3) 29.97fps 7000Kbps
Audio:
English AC3 48Hz 6ch 448Kbps
Total Size:
8.09 GB
Total Time:
03:15:00
Download Hoster: filefactory.com, share-online.biz, hitfile.net, turbobit.net
Download via share-online.biz
Download via turbobit.net
Download via filefactory.com
Download via hitfile.net
Pass: 689